Set Small Grill + Iron Cross + Brazier
Regular price
$520.00 USD
Regular price
$650.00 USD
Sale price
$520.00 USD
Unit price
per
Materials

Hand Made and craft with Iron, using traditional Argentinian methods and techniques
Dimensions

Small Grill: 60x40cm (23.6x15.7in)

Brasero:
Small: 27cmx20cmx30cm (10.6x7.8x11.8in)
Large: 27cmx28cmx47cm (10.6x11x18.5in)

Cross: You will find the measurements in the last photo.
Care Instructions

1· You shouldn't leave the grill outdoors if not in use.
2· Always remove any food rest or remainings from the grill after using it.
3· It would be best to spread some vegetable oil if you know you are not going to use it for some time.
4· If you do not use it for a long time you should expose the grill to direct fire for a little while before using it.
Set 1: Small Grill + Small Iron Cross
Set 2: Small Grill + Small Iron Cross + Small brazier


Argentine iron grill asado parrilla argentina:


The 100% full iron construction grill with handles is designed to satisfy your every grilling need, and unlike conventional grills, the Argentine grill is portable and uses little space.
Very resistant, and with superb heat distribution, you'll find it easy to put together restaurant-quality meals with the fantastic flavor only fire brings to the table.


The grill comes with easy instructions to season and maintain it in the best conditions for many years.
And there's more: We offer free shipping to the USA, so there's no excuse for not having one of these artisan pieces in your backyard.

Perfect steaks, succulent sausages, and charred veggies guaranteed every time, all grilled in the famous Argentine style.


Argentinian Iron Cross:

Cooking with an Iron cross is one of the most enjoyable outdoor grilling experiences. Gauchos use to cook hole animals in the open field.

Iron cross cooking required patience. A small 26-30 lbs. pig can be done in 4-5 hours. The result is incredible, a gold and crispy skin with smoky and tender meat.

Iron crosses are for grilling a whole lamb, small pig, fish or a chicken over a wood fire.

We are starting a blog where you can find tips and recipes of Argentinean outdoor cooking.

Features

X Handmade in Argentina
X Adjustable base with three inclination levels to reach the ideal temperature
X 3 cross arms with adjustment locks
X The pole has a 360-degree rotation system
X 4 hooks to secure the meat
X Iron construction
X Free U.S. shipping with FedEx
X The product is handmade so te measurements are aproximate
Size: You will find the measurements in the last photo.

Argentine iron grill asado brasero parrilla:

- Iron brazier, perfect to use with charcoal or wood.

- Heavy-duty iron construction.


Share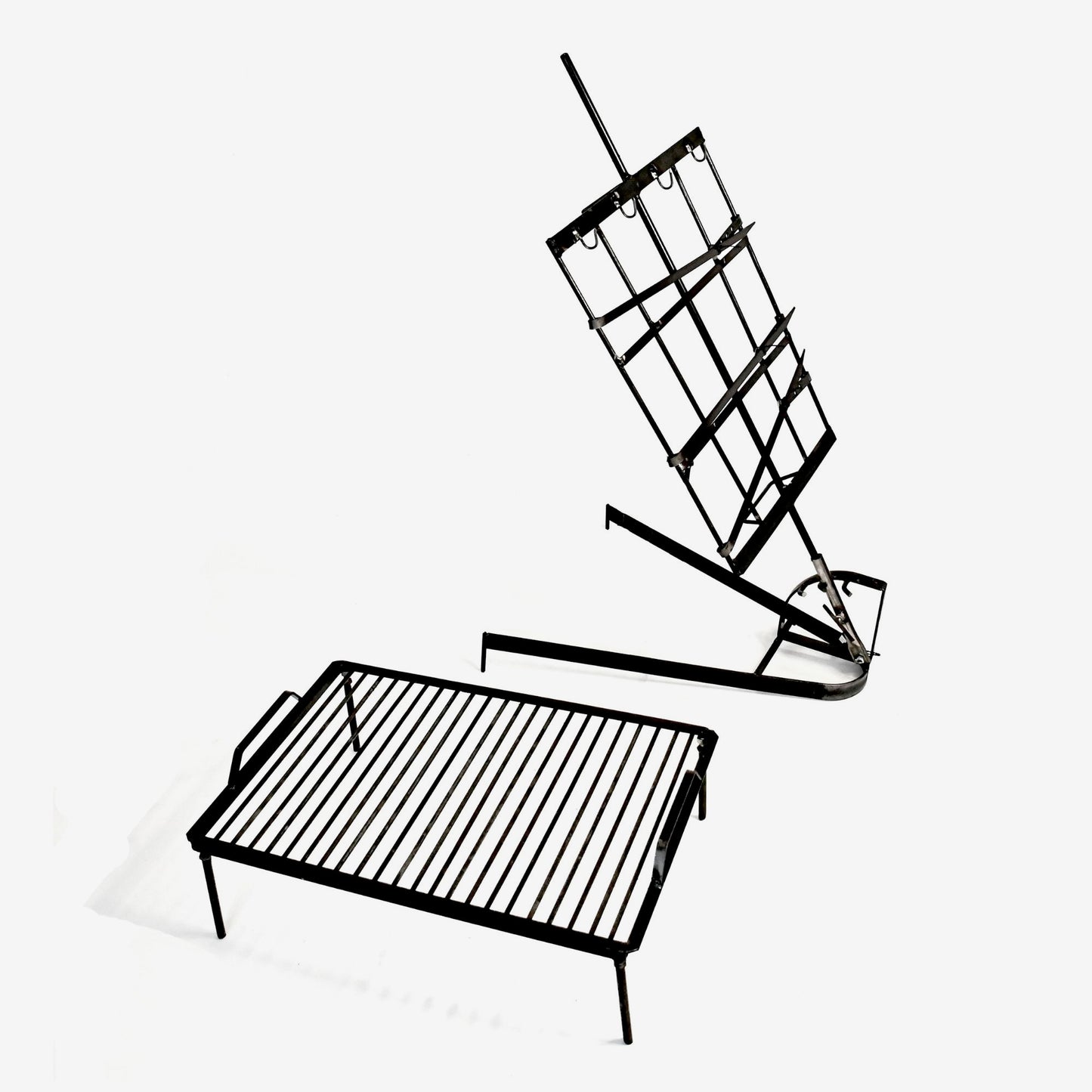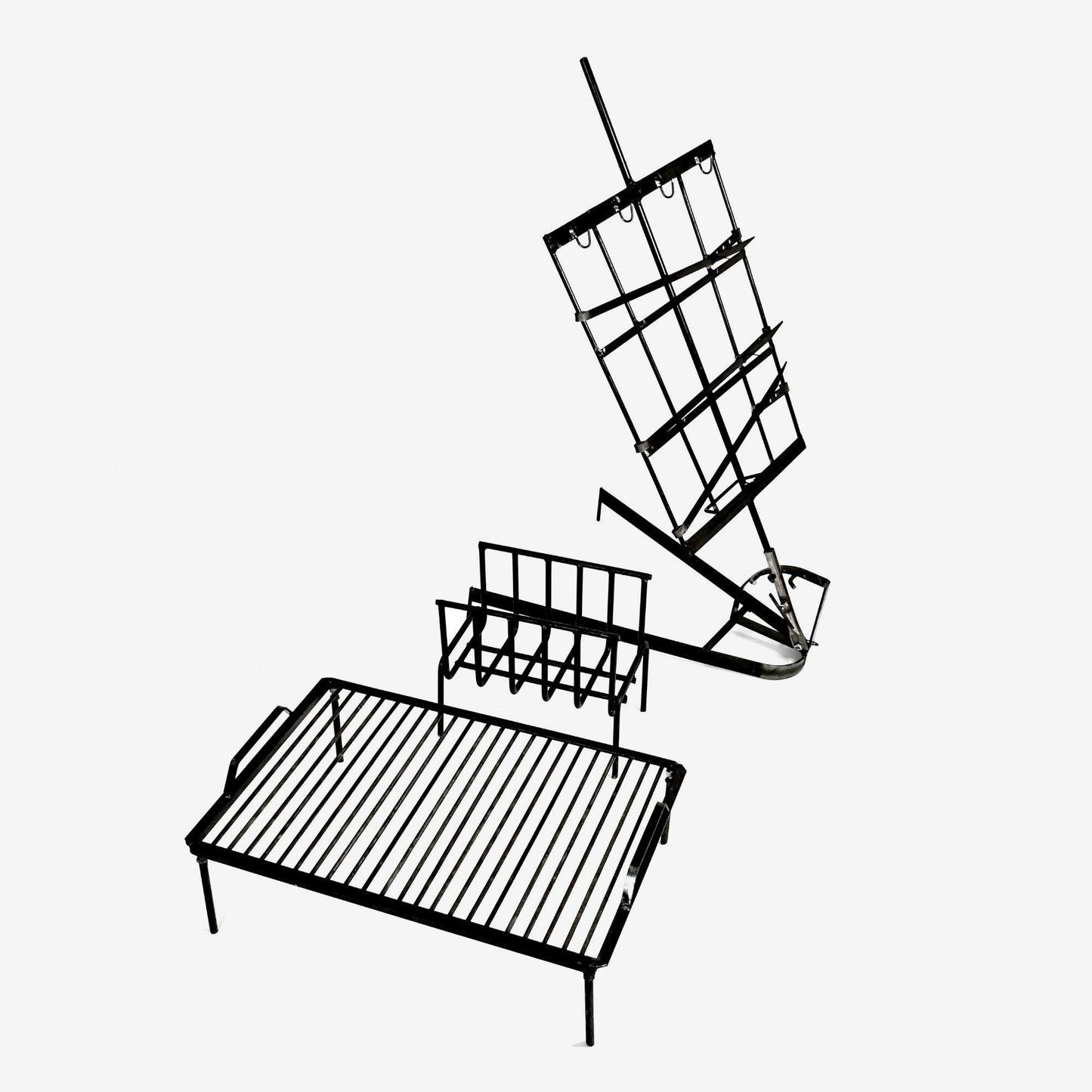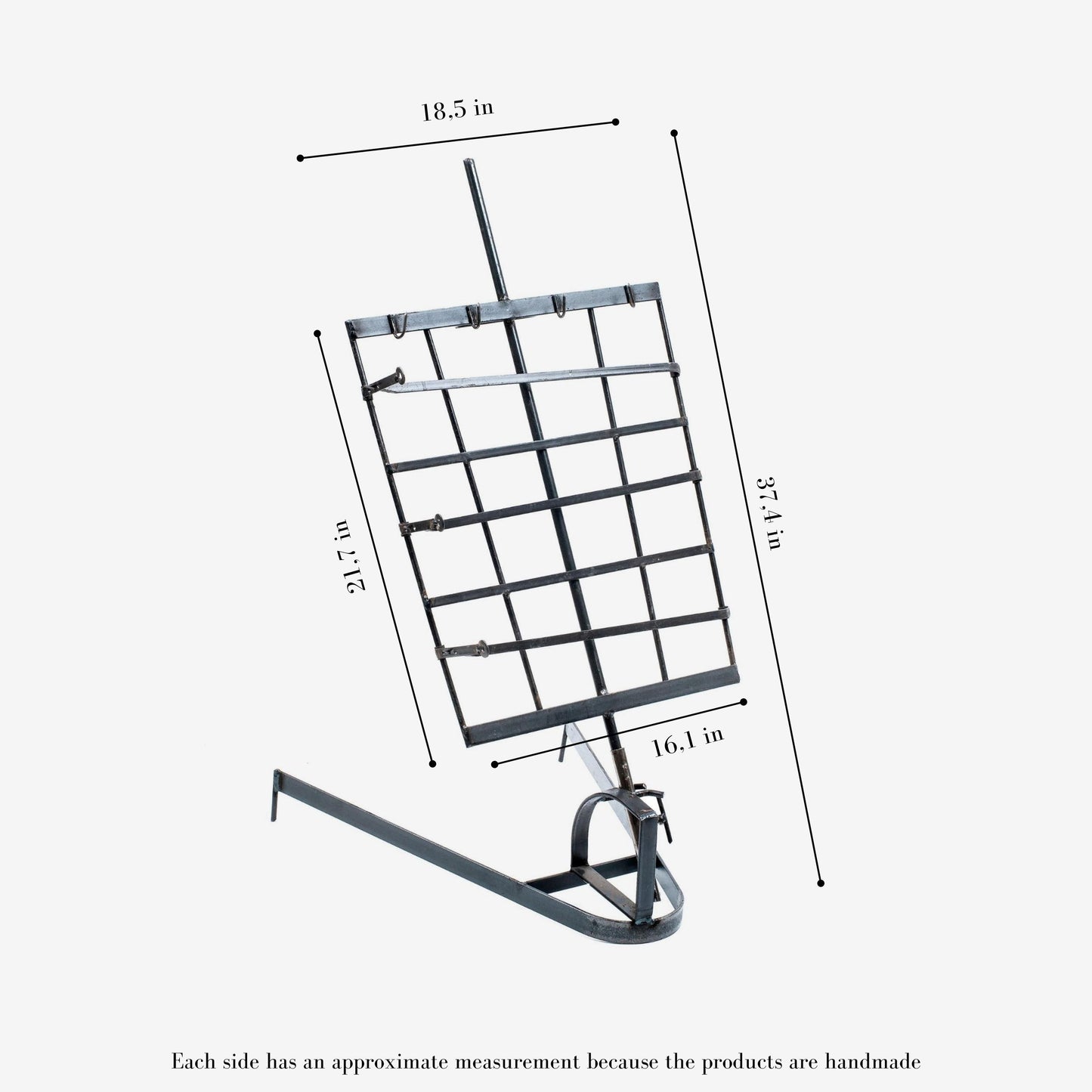 EXPRESS FREE SHIPPING

Free Shipping to USA and Canada via FedEx International Economy (4 business days)

HEAVY DUTY

Our Grills are made with 100% solid iron

HAND MADE IN ARGENTINA

Designed and crafted in Buenos Aires using traditional Argentinian methods and techniques